Shotbox for Lyric is now available from the Apple App Store.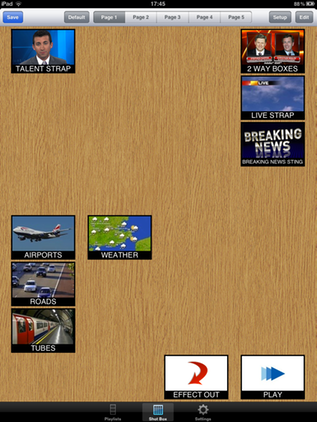 Shotbox controls Chyron's Lyric software running on HyperX and LEX families of graphics systems.
Lyric Setup:
Use Config > Intelligent Interface menu, check 'Enable Telnet', click 'OK'.
Shotbox Setup:
Tap 'Settings' tab, edit 'Lyric PC IP Address' to match IP Address of Chyron running Lyric, tap 'Save'.
Use:
Tap 'Playlists' tab. Tap refresh icon top right, tap 'Reconnect to Lyric'.
A message should appear showing the name of the Chyron PC and 'Connected to Lyric OK'
If 'LYRIC TELNET IS ALREADY IN USE, CAN'T CONNECT' is displayed, Lyric is already being controlled by another application and Shotbox cannot connect to it.
Tab 'ShotBox' tab.
If this is the first time Shotbox has been used a default screen of buttons will be displayed for testing purposes.
The buttons are configured to load messages 1-8.
Buttons can be repositioned by dragging and edited via the 'Edit' button.
To quickly show/hide a button - swipe its entry in the list in the Edit screen. Right for on, left for off.
Tap an entry in the Edit list to configure it. The i icon top right shows help information.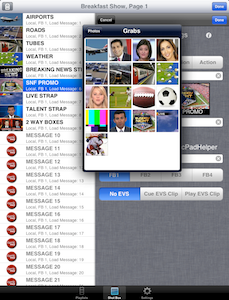 Images:
Any image in your iPad Photos Library can be used on a button.
You can capture images from websites, save from emails etc.
To create a suitable aspect ratio image:
Use the iPad Photos app, select an image, tap 'Edit', tap 'Crop', tap 'Constrain', tap '16 x 9', position and size the image, tap 'Crop', tap 'Save', depending on the source of the Image you may be asked to confirm the edited version is to be saved to the Camera Roll. The cropped image will now be available for selection.
To create images externally:
The optimum image size is 150 x 84 pixels in PNG format. JPEG is also usable although quality is not so good.
Create your images and sync them to your iPad.
Saving Shows:
A show can consist of 5 screens of buttons.
To save a screen:
Tab 'Save'. The name of the current show is displayed, edit if required, tap Page 1-5, tap 'Save'
The Show Name button will display the saved Show name. Tap this button to display saved Shows and load them.
Screens can be copied between Shows by displaying the desired screen and then saving into the desired show name and screen.Saving Shows: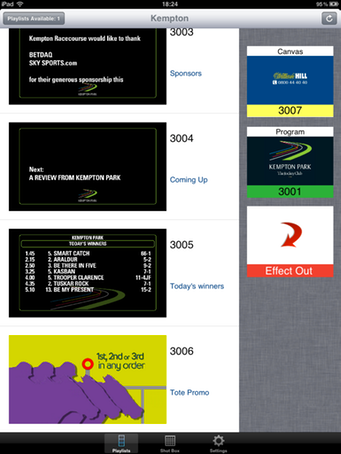 The Playlist tab in ShotBox lets you browse saved Playlists in Lyric.
Large thumbnails display the content of the messages in the selected Playlist.
Tapping an entry in the Playlist loads the message to Canvas.
Tapping the Canvas image plays the message to Program.
Tapping the Program image displays a popover of available Transitions.